Acquisition et modélisation tridimensionnelles : applications en Sciences Humaines et Sociales
For some time now, 3D acquisition and modeling techniques have revolutionized the use of spatial data. For the humanities, the exploratory fields are extremely extensive. The digital preservation of architectural heritage, the analysis of soil surfaces or urban fabrics are now linked to problems of spatial planning, historical or even archaeological. Some scientific projects can now combine the chromatic richness of a photogrammetric recording, the Euclidean precision of a laser lift and a standardized modelling or Building Information Model (B.I.M). This presentation is based on three case studies combining these high-density spatial data acquisition techniques associated with the 3D B.IM. L'oppidum du second âge du fer de Vermand (Aisne, France), the study of the city of Charleville (Ardennes, France) as well as the chapels of Osiris in Karnak (Egypt), will illustrate this decisive evolution.
Depuis quelques temps, les techniques d'acquisition et de modélisation tridimensionnelles révolutionnent l'usage des données spatiales. Pour les sciences humaines et sociales (S.H.S), les champs exploratoires sont extrêmement étendus. La conservation numérique de patrimoines architecturaux, l'analyse de surfaces de sols ou de tissus urbains sont désormais associables aux problématiques d'aménagement du territoire, historiques ou encore archéologiques. Combinant, totalement ou en partie l'exhaustivité de l'enregistrement d'un lever laser ou photogrammétrique, la modélisation standardisée d'un maquettage numérique standardisé ou Building Information Model (B.I.M) et l'usage de données massives (BIG DATA), certains projets S.H.S peuvent, alors, atteindre une étude immersive de la quatrième dimension. L'exploitation simultanée et diachronique de toutes ces entités spatiales, archéologiques ou historiques est, désormais, réalisable. Ces quelques s'appuient sur trois cas d'étude utilisant à divers degrés l'acquisition à haute densité (photogrammétrie ou lasergrammétrie), des bases de données massives et le maquettage standardisé de bâtiment ou Building Information Model (B.IM). L'oppidum de Vermand (Aisne, France), l'étude de la ville de Charleville (Ardennes, France) ainsi que les chapelles d'Osiris à Karnak (Egypte), illustreront cette évolution décisive.
Fichier principal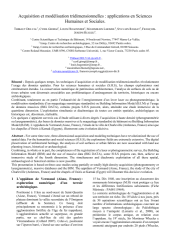 doc00015439.pdf (2.37 Mo)
Télécharger le fichier
Origin : Files produced by the author(s)